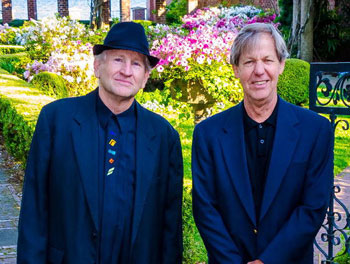 Side Track is an acoustic-electric duo based in Jacksonville, Florida featuring Terry Whitehead (vocals & rhythm acoustic) and Dave Knopsnyder (electric lead & harmonies). Terry is a vocal stylist with a southern, soulful sound. Dave's guitar style alternates between tasteful backdrop and sprightly solos.
Side Track plays an eclectic mix of acoustic/electric rock that emphasizes familiar hits from several decades up to current, but also mix in some songs off the beaten track to keep it fresh. Their repertoire has the variety to customize to any venue and occasion.
Side Track also performs as a band by including Warren Miller (keys/bass), Beau Halton (drums), and/or Jim Woodey (drums/congas) based on the venue or occasion. To learn more and to see where Side Track plays, check out the "About Us" page or the events "Calendar". To book Side Track, please contact Terry using the contact page on this site..
Terry is also a songwriter and has released 2 albums, the most recent being Garden: a mix of originals and covers. The album features Dave as well as other musicians. Garden was nominated for Best Contemporary Album by Just Plain Folks Music Awards and the song Steeples was nominated for Best Christian & Spiritual Song. You can sample the album here: Garden.Terry's 1st release Perfect Wave also has award winning songs and can be sampled here: Perfect Wave. Learn more about Terry the singer-songwriter here: www.terrywhiteheadmusic.com